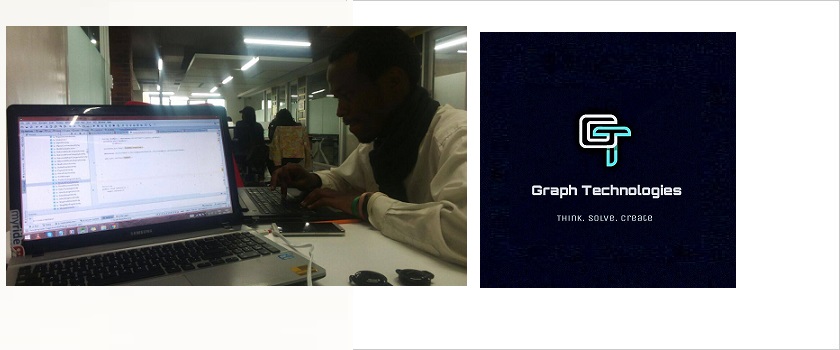 Kihahu Macharia is Head of Mobile Development at Graph Technologies. The company was founded back in 2016.
What does your mobile app development company do?
Graph Technologies is an award-winning, mobile app development agency.
We develop mobile apps and web apps focussed on building products with the best technologies.
We work on the entire application stack i.e. backend with API, app and Frontend. Our mobile app development service is backed with business-centric consultancy and unmatched support.
Graph Technologies is known for our agility, partner approach, innovation and technology excellence.
We operate from Nairobi and Mombasa serving East and the whole of Africa.
What clients do you work with?
Clients include Government of Kenya and a series of upcoming SMES in Kenya and individual innovators.
What is the average budget of the mobile apps you develop?
There is no magic number or min/max value, but an average cost is very affordable.
Do you develop all mobile apps in-house or do you outsource some parts of the process? Tell us the Pros and Cons
We perform all stages of design and development using full time, in-house teams, that are in the same building. We believe the benefits of collaboration and easy communication far outweigh the cost savings of outsourcing.
Which would you say are the best mobile apps that your company has developed and why?
You can find them in our projects section of our website as well as the slider in the website homepage.
If you had to choose one category, what kind of app do you think is your mobile app development company's specialty?
We have expertise in Ecommerce, Real Estate and payment sector. Mobile apps are quickly becoming financial services' biggest asset. Mobile apps can help financial services increase productivity and im-prove the client experience. We have worked for various Banking and Insurance companies like Tesco Bank, Bank of America, SBI general insurance app, to name a few. We are also the go-to mobile app development company for outsourced product development as we understand the entire life cycle of creating, maintaining and promoting a successful product.
Do you develop all mobile apps in-house or do you outsource some parts of the process?
All the mobile app development is done in house
Pros
• Complete control: since we are developing the app under our very roof, we can control the process on every step and micro-manage every move.
• Management of resources: we can decide how much of our work force is required to dedicate to mobile app development if we are conducting it in-house. If we have a light workload or a strong financial period, more efforts and capital can be diverted towards the process or vice versa.
• No clash of culture: the way we want to conduct our business is completely under our control, so there is no differences in ideology, approach or any such factors.
Cons
• Cost: creating and maintaining a team that is capable of executing a full-fledged app on a multi-tude of platforms can prove to be very expensive. The initial expenditure in particular is always high.
• Time: it also takes a fair amount of time to set up an in-house app development structure. To hire the right candidate, the right amount of candidates, and putting the infrastructure in shape takes a lot of time.
Do you prefer to build mobile apps with native, hybrid or web languages?
We are working on all three according to client requirements. We have teams for all three and can give rightful solutions as per requirements. We can consult on the right technology stack to our clients once we know the purpose of the app, functionality and the target user group.
But our preference technically is Native because it can totally take advantage of phone capacity.
Let's focus on Android mobile app development. Which are the Pros and Cons of each platform?
From a marketing point of view you need to release on both platforms, unless you have a very strong technical reasons not to.
Android – Pros
• Quicker to release/patch because there is no acceptance gate forced on us, ideal for a part-formed product i.e. the Minimum Viable Product
• Wider install base: we have a broader population of people with Androids
• Easy to develop using existing PCs and Eclipse i.e. not specialised hardware
• No restrictions on what you develop, so it is open to new ideas
• Two key markets to submit to: Google and Amazon, which means you can have multiple shots at success
• No restrictions on deploying beta/alpha versions
Android – Cons
• Fragmented devices: lots to support (screen sizes, performance, sensors)
• Most of users will be on a range of OS versions
• No double checking of the final app: therefore all the QA is with you (it is with Apple too, but they might just spot a real showstopper)
• Emulator isn't as good as iOS and generally Android devices are cheaper than iOS
Why work with Graph Technologies
We are hungry, competitive, young, innovative and proud enough to want to build the best product just for the sake of a good product.